Lundi, 23 Autumn 577 (1/1/10)
The Bawkmas season is upon us, which means that I have had a little free time outside the library to take part in a few spontaneous hunts. I've been on a couple of trips to the Cove, some 'noid hunting past Camp Dread, and one interesting expedition on Gungla when a group met for a quick rescue and then decided to take a crack at the earthwyrm cave, which proved to be much less difficult than I remembered from the old days, perhaps my slowly increasing earthpower is sufficient to awe the 'wyrms, although I suspect that having J'nder along to keep our health up had more to do with it.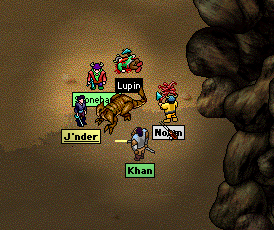 Whiffing the big brown earthwyrms. (v627)
But even more interesting from the champion's point of view was my recent trip to the Mountain Glen's ruined keep, where I was helping Grems and Mablum hunt some spiders for their ranger skills, for some reason those guys just love hanging out with eight-legged bugs. All was going well until a couple of banana arachnes showed up at the same time, these are bright orange spiders that hit like a ton of bricks, and as luck would have it my usual fleetness of foot failed me and I ended up fallen with the rest. Gremlins almost managed to chain us all out, but the pathways in the mountains are a bit narrow and he was finally done in by a crowd of 'kin and a certain lack of pathfinding.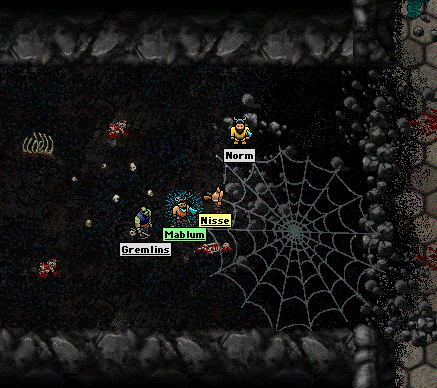 Hunting spiders with rangers. (v630)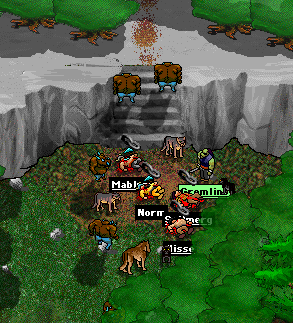 Trapped by trools. (v630)
But all was not lost, as Mujin showed up with a rescue party. After we were all chained back to town and back on our feet I asked Mujin about the location of the champion trainer in the Glen that I had heard rumors about; she didn't know where the trainer was located, but Talin showed up soon after and guided us back to a chamber in the t'rool caves, stopping to pick up some butterfly kisses along the way. I spotted a set of runes on the wall, nipped in and found a trainer to improve my earthpower regeneration (which currently sucks); but strangely enough I was the only one who could see the runes or enter the trainer room, the mighty Mujin or the well-trained Rambler weren't able to get in. One theory we came up with is that there is a different trainer for humans, but where that might be I don't know; perhaps elsewhere in the caves? But for the moment I'm happy to have a new trainer to waste ranks on…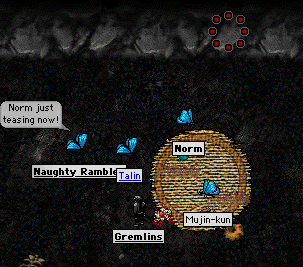 Only I could see the runes. (v630)