15 Winter 536 (12/9/99)
Back again with more complaints than ever, just before the end of the year I managed to wear out my sunstone (that had only shuddered once, I'll have you know), and since the sunstone repair business seems to be in a bit of flux right now (something about Stu going on extended vacation, it's hard to keep track, those mystics always use such big words) I was forced to pony up the big bucks for a new stone from that bandit Elendil. Anyway, my last stone lasted for almost exactly two years before it wore out, some would say that's not too bad, especially when you consider that prices were quite a bit lower back then; the new stone cost me over twice as much as the original, but I suspect that it won't last twice as long...
So anyway, now that the new year has started I've decided that the best thing for me to hunt right now is crawlers, I can crunch a number of the gray ones without getting hit too bad, but the greens and reds are a different story, they don't have quite so much trouble hitting me. Two good spots for crawlers are the beach due south of the Sylvan Scout in the south forest and the nice sandy beach northwest of town. I don't do quite so well against the swamp ferals, plus I can't seem to skin the darn things, guess it's time for some more training with Skea Brightfur.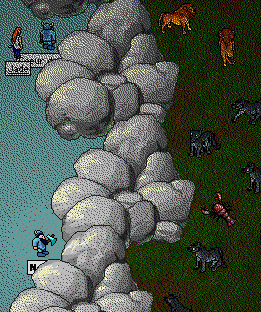 Too many swamp ferals. (v105)