Lundi, 10 Winter 543 (8/15/01)
Well, the new year is here and the nights are long, which means that there are many small furry creatures to skin. This is a good thing, since I've gone through no less than three chains in the past moon, and I have had some other extra expenses as well. Wormtongue had talked Musea into letting him auction off a spot in the museum, and my clan decided to bid on it so that we would have a location to share some of our clan relics with the general population (we have an extensive collection of items related to the Emperor Duck, the semi-legendary founder of our clan). I pitched in some of my own funds, but it wasn't enough, as some other party came in and outbid us for the spot. Oh well, maybe next time...
And then there was a really strange event the other day, I was hunting in the lily pond when there were sunstone reports of the bears pouring out of their cave in the Northwest Forest, the fields were reported to be thick with them, and there were reports of underground rumbling and earthquakes in the area. After clearing out the bears several brave exiles ventured in to the cave, which they found to be strangely deserted; then, in one of the caverns they discovered a small upwelling of lava that was hissing and smoking like anything. I got to the chamber just in time to see Icy dump a barrel of water into the pool, which seemed to cool it down and seal up the vent; shortly after the bears and snakes started reappearing, and the show seemed to be over. This may seem a bit more mundane than clouds of ether or Darshak invasions, but I seem to recall similar eruptions taking place even closer to town in the past, and with all the tunneling under the town I'm worried we will open up a vent there as well.
And finally I tagged along with a group going to help with a rescue at Hatred Hollow, poor Achates had gotten himself both bolted and squished and needed some Horus expertise. There were only a couple of the big reds still standing when I arrived, and we managed to wall one up with kudzu, but the other was giving us a devil of a time and soon after some orga reinforcements showed up, forcing us to abandon the attempt to pass through the Hollow. It looks like the sort of thing that requires a lot of coordination during the 'zuing operation, not something that I'm very good at, I'm afraid, although I did manage to chain a few people out during one of our numerous retreats.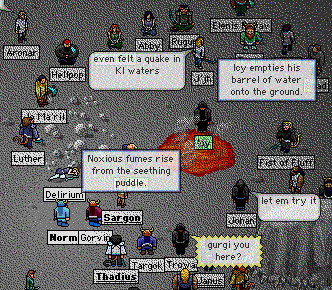 Chilling out in NBC. (v193)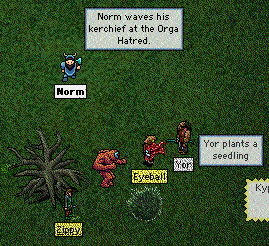 Trying to 'zu the hatred. (v193)